The purest sense of our shoes comes from our customers. They truly are our best advertising! We strive to give the best service and quality we can to all of these wonderful people. Within these pages, you can read what they are saying!
Already own a pair of Medieval Moccasins? Tell us how you feel about them!
Click Here to E-mail Us your comments.
Years ago, when my son was 16, I got a pair of your celtic sandals in children's size at the Renassaince Festival in Waxahachie, Texas. I have faithfully worn them day in and day out every summer — and you know Texas summers are long! — for the past 14 years. This summer, however, they are a bit delicate, finally, so I would like to get another pair. BUT I have never ever been able to find a more comfortable shoe, a nicer looking sandal, a striking elegance that everyone comments and asks, where did you get your shoes? And every time I thank my lucky stars I found you…
BUT it has taken me quite some time to find you again, because otherwise, I would have gotten you a few years before, just so I would have another pair! I have a closed celtic sandal, also highly complimented, but for the summer, there is nothing like this open-toed beauty! […]
Anyway, I even once went into a river with them on, as I was afraid of the rocks in the river bed, and while all were complaining, I had a grand ol' time enjoying my trek through the river, and afterward, my sandals dried as if nothing had happened to them: they are a miracle of craftsmanship: I take my hat off to you!
So of course, now that I finally found you again, I would like to get another pair and have ordered one. Here's a photograph of it. This is a very old sandal, but it is the best sandal I have ever owned! I can't wait to get my next pair 🙂
Besos, not Borders,
Ana M. Fores Tamayo
I am OVER THE MOON!! in love with my knee-high lace up boots!! I got them in medium chocolate brown and specifically for my wedding day. THEY. WERE. PERFECT!!! They matched my dress flawlessly and are so so comfortable. The quality of the shoes is superb!! Thank you so much. I've included a photo!
Virginia Seybold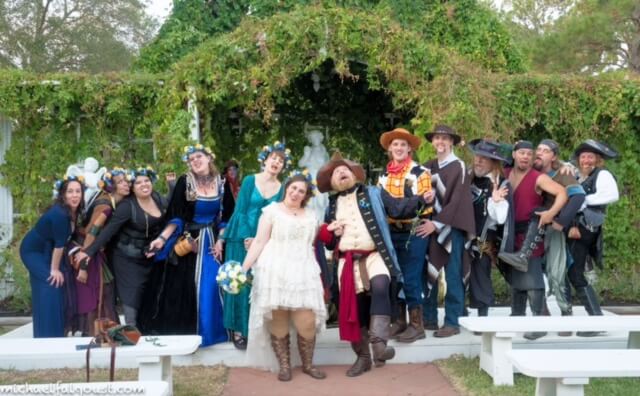 Hello there!
I just wanted to express that my bubble gum pink, low top, medieval moccasins are my favorite shoes! Let's definitely talk about the fact that I bought them in 1998 when I was working flarf and they still look like they did the day I bought them despite being worn almost daily. Thanks so much for making such amazing stuff!
Vanessa
Greetings, Shoe Crew!
I wanted to tell you how much my low-top Medieval Moccasins are enjoyed. I love them, they're my favorite and most comfortable pair of shoes! Years ago, I purchased a shiny metallic lavender-purpley pair at SCA Estrella War in Arizona. Every time I wear my mocs I receive compliments! Thanks!
If more shoes were designed like Medieval Moccasins, everyone would have happier feet. Because of fibromyalgia, I have to be extremely conscientious of ergonomics. Your shoes have truly reduced pain. My favorite feature is the roomy toe box – my toes don't feel squished. The ample 1 cm sole makes me feel grounded. I am able to walk and move with ease while maintaining proper foot and body posture.
Medieval Moccasins remind me of expensive minimalist shoes, but far more beautiful. Based on the Runner's World article, "What is a Minimalist Shoe?" rating scale, your wares would receive high marks. I'm not a runner, but the benefits, durability and barefoot-like comfort of Medieval Moccasins make your footwear extremely high value and beloved work of art.
When I purchased the moccasins, I wasn't sure how well they would hold up. After much use, the metallic shine has barely dulled. The soles are still intact. I was delighted reading about your moccasin re-sole service on your website! Now I won't be hesitant to wear them all the time. My favorite shoes will keep being my favorite for years to come.
Thank you for your wonderful designs, craftsmanship and customer service.
With Gratitude,
Dusti
I LOVE my new medieval moccasins. I received them last Friday, and have been wearing the everyday to work this week. (I'm on my feet alot.)
For about two years I have been wearing minimalist shoes with a very thin sole which seemed to feel fine, but then I (silly me) overstretched the bottom of my foot and have had pain for the last few months. The thin soled shoes I had been wearing offered no protection when I would walk on blacktop roads, gravel paths, or concrete sidewalks. However, my new mocs offer more protection since the sole is thicker, and my foot does not hurt while walking at all. Yay!
And these shoes have inspired many conversations with folks, as they want to know all about them and what kind of shoes they are.
Thanks again!
Linda Warner
I absolutely love my moccasins! I have tried several different styles of Renn Faire shoes and these are by far the most comfortable. I even bought a pair of the open toed style to wear for my summer sandals and every time I wear them I get asked where I found them. Anytime anyone asks where to get good shoes for Faire I point them your way! They last forever and I love how adjustable they are. Even in cold weather I can wear them with socks layered underneath so long as it's not raining! Keep up the good work! I'll be buying your shoes for years to come!
Meghan
Customer Service, Selection, Quality:
I just ordered my second pair. I wear my first pair all the time. My chiropractor loved them too. He said they were great for my feet.  I can't say enough about your product. I brag about them to everyone. They look great with my hand knit socks too.
Cheryl
I was so excited today to come home from work and find my moccasins (high tops) had arrived!! I put them on immediately and they are a perfect fit. They are so comfortable and I am absolutely in love with them.
I WILL be ordering more!! As soon as I can decide on the color and style I want next. *g*
Thank you!
Laura Jenkins
Good morning,
I just wanted to say that y'all make a fantastic shoe! I bought a pair of high top sandals at Scarborough Ren Fair this past may (2010). They are the most comfortable shoe I own and they fit perfectly while supporting my strange ankle that rolls just to annoy me. I was also a summer camp counselor and wore them all the time and they were fabulous hiking shoes and it didn't matter when they got wet from me slipping in a stream because they dried so quickly while still being amazingly comfortable! They also didn't wear like my other shoes did 🙂
Thanks so much,
Kristen Eggleston
I am wearing open-toe sandals for the first time this season, purchased last summer in at the Sterling Renaissance Faire. I now have 21 pairs of your footwear. The best part is that I still wear the first pair I purchased in the mid 1990s. I look forward to seeing you at various Faires or at Pennsic, and almost always pick up a new color. They wash well, they hold up, and I wear them almost exclusively from April or May through 'til fall. These are incredibly well crafted shoes!
Ellen B., Auburn, NY
I placed my online order for a pair of low-top moccasins on Sunday.  The shoes arrived today (Thursday).  Amazing service!!!  But the best part is—I LOVE them!
Dolly even called me on Monday to double-check my size, and persuaded me to order the next-smaller size.  She was absolutely right, the smaller size is perfect.  Now THAT's customer service!  And—I LOVE them!
I can't believe you processed this order so quickly, I can't believe you took the trouble to ensure I would be getting exactly the right thing, and I can't believe how attractive these shoes are and how comfortable they feel!  I LOVE them!
I purchased these shoes to wear at my daughter's celtic-themed wedding (in 3 wks) and now feel I am appropriately attired!  I am so impressed with your service and the quality of your product—just wanted to say thank you very much and to let you know you have a customer for life.  What a pleasure it is to deal with people who demonstrate such a commitment to quality goods and outstanding customer service.  I can honestly say this was a completely unique experience.  I'll be back, and soon!  I LOVE you!
Many many thanks.
N.S., Olathe, Kansas
One of the saddest parts of end of fair run for the year is not being able to see your smiling face and get a hug every weekend.
At least I have beautiful Purple shoes that make my feet happy.
With the end of season being a huge mud pit … (start with snow end with mud—sounds right somewhere) I was worried about my pretty new shoes.  I followed the care instructions … WOW.  Back to a Brilliant Bright Purple.  (Ok you said they would be … but you never know with bright colors)
I love my shoes … thank you for having the right pair at the right time for the right price.
Kiss Kiss
The Kissing Frog Fairy (Scarborough Fair)
My lowtops that I adopted in Texas are worth every penny I paid. Your customer service and repair policy is second to none.
We all know Memorial weekend at Scarby was brutal on footwear.
I brought my low tops to Chela in NY at Sterling and they were fixed the same day.
I got 2 great pair of shoes (low top and tall boot) and have recommended your shoes to anyone and everyone. I think the next purchase will be the open toe sandal.
Thanks for a wonderful product!
B.W., NY & Texas
I thank everyone envolved in making my moccasins! I haven't ever walked due to progressive muscular dystrophy. I am a youg 47 yr. old, I refuse to let my mind think old! My feet and legs hurt so bad setting in this chair all day, all the swelling of my feet and ankles made it extreamly hard to find shoes for a lady as myself. I was at a ren.fest and my feet hurt so bad she sold me another brand of moccasin they felt so good I orderd 5 diffeent styles, Then they were gone on the internt. Good thing because I found medieval moccins they are sylish, cute, feel absolutely comfortable! I ordered black low tops, ivory high tops, and a pair for my only grrandaughter 7 months old. I love the craftmanship put into these shoes. Thank you! Now happy feet!
J.T., Miamisburg, Ohio
I received my moccasins about a week ago.  They have to be one if not the only comfortable shoes that I have had in a very long time.  I have problems fitting shoes because my second toe is longer than my big toe.  Finding shoes at time is a very difficult problem as that toe always seem to get jammed at the front of the shoe and when that happens they always seen to tight around the ball of my feet as well.  Thank you from a new Canadian convert.  They are soooo comfortable.
N.C., Saskatoon, Canada
I just wanted to let you know that I recieved my black Low Top Moccasins in the mail yesterday!  And just WOW!  These are amazing comfort!  I'm actually on my way out the door to go north with family on vacation for a week—hopefully i can get a good picture of me & my new shoes up at the lake.
But I just wanted to say thank you for the email updates of my order and when they got shipped!  Excellent speed!
Thank you thank you thank you!!!!!!!!!!
I can't wait to wear these at my RenFest!
N.R., St Paul, MN
I purchased a pair of moccasins back in june and after a week or so of "getting to know them," they quickly became a second skin and I wear them practically everywhere.
Attached is a shot from a trip I took in July out west. The picture was taken at Yosemity National Park.
Thanks for making such wonderful foot-ware!
G.W., Ballston Spa, NY
I got my moccasins primarily to go with a Madrigal costume, but I wear them with everything now. I have a chronic sprained ankle, chronic ingrown toenails (four surgeries so far to fix them), extraordinarily flat feet (my podiatrist said, "Wow, you have the flattest feet I've ever seen!" when he first saw them) and to top it off, my feet are two different sizes: an 8 and a 10. The moccasins are the ONLY shoes I have found that fit both of my feet, don't hurt my toes or arches, and don't strain my ankle. I recommend them to anybody—wear med mocs for a day, then put normal shoes on, and you'll see what I mean! They're the only shoes worth wearing.
K.M., Arlington Heights, IL
I ordered my first pair of the lowtop mocs a couple of years ago, to wear while selling roses for renfaires over the summer. I needed a pair of very comfortable shoes for all the walking rose girls do and they fit the bill perfectly.
I was so satisfied with my lowtops that i very reacently ordered the boots, they arrived this morning and im extatic, they look and feel absolutly wonderfull, i cant wait for fair season up here to start so i can show them off!
Thank You!
G.M., Bethel, CT
My moccasins arrived today! The leather is so soft, and comfortable. My mom is so jealous of them now she wants a pair. They will work perfectly with my renaissance costume as well as many other outfits. I'm so glad I bought them. Now I want a pair in every color. Thanks so much. I hope to be ordering more as soon as I can.
H., Albany, New York